Long-term Rentals
We offer long term rentals for anyone who wants to take up cycling (again); is only spending a few months in Lausanne; wants to try a new type of bike; or simply likes the idea of using beautiful recycled bikes by enthusiastic volunteers. The advantages of this concept:
longterm rental from 1 to 24 months

degressive rates according to the duration of the rental period

free mechanical assistance and maintenance throughout the entire rental period

padlock and lights included
Individual Rentals
Stop by our store (you can inform us of your arrival beforehand by e-mail or simply drop by) and choose a bike from our fleet. Our volonteers will be on hand to give you advice and you take the bike for a test ride. To give you an idea of the bikes on offer, checkout our database of bikes online est disponible en ligne.

Decide how long you would like to rent the bike for. Don't worry, it's easy to extend the rental!

The rental conditions will be explained to you, as well as the rates for the bike you have chosen.

We will set up your bike with lights, give you a padlock and make any fine adjustments to make the bike comfortable for you.

Pay the deposit (between 100.- and 150.- francs) and the rental fee, Attention, on n'accepte que les paiements en espèces.

You are now thehappy renter of a recycled bicycle ! We are available for any question or advice and wish you a very good ride!

If you would like a mechanical overhaul of your rented bike, you can simply stop by during our opening hours. To request an extension, write to us at the following address location(at)recyclo.bike.

You wish to extend your contract? Check here.
Group Rentals
Would you like to go for a ride with your family? Or how about a work outing or BikeToWork challenge with your colleagues?
We also offer group rentals starting from 3 bikes and for a minimum duration of 1 week!
Visit this page for more information or write to us.
Children's Bikes, Special Bikes and Accessories
What better way to promote cycling than to pass it on to your children? In our catalogue you will find bikes for children from 4 years old, and for the little ones we have special rates to discover here.
Are you looking for special bikes (e.g. tandems) or accessories (trailers, child seats)? Take a look here or contact us!
Price List - Individual Rentals
We have 6 categories of bikes, classified according to their performance, from city bikes to competitive racing bikes.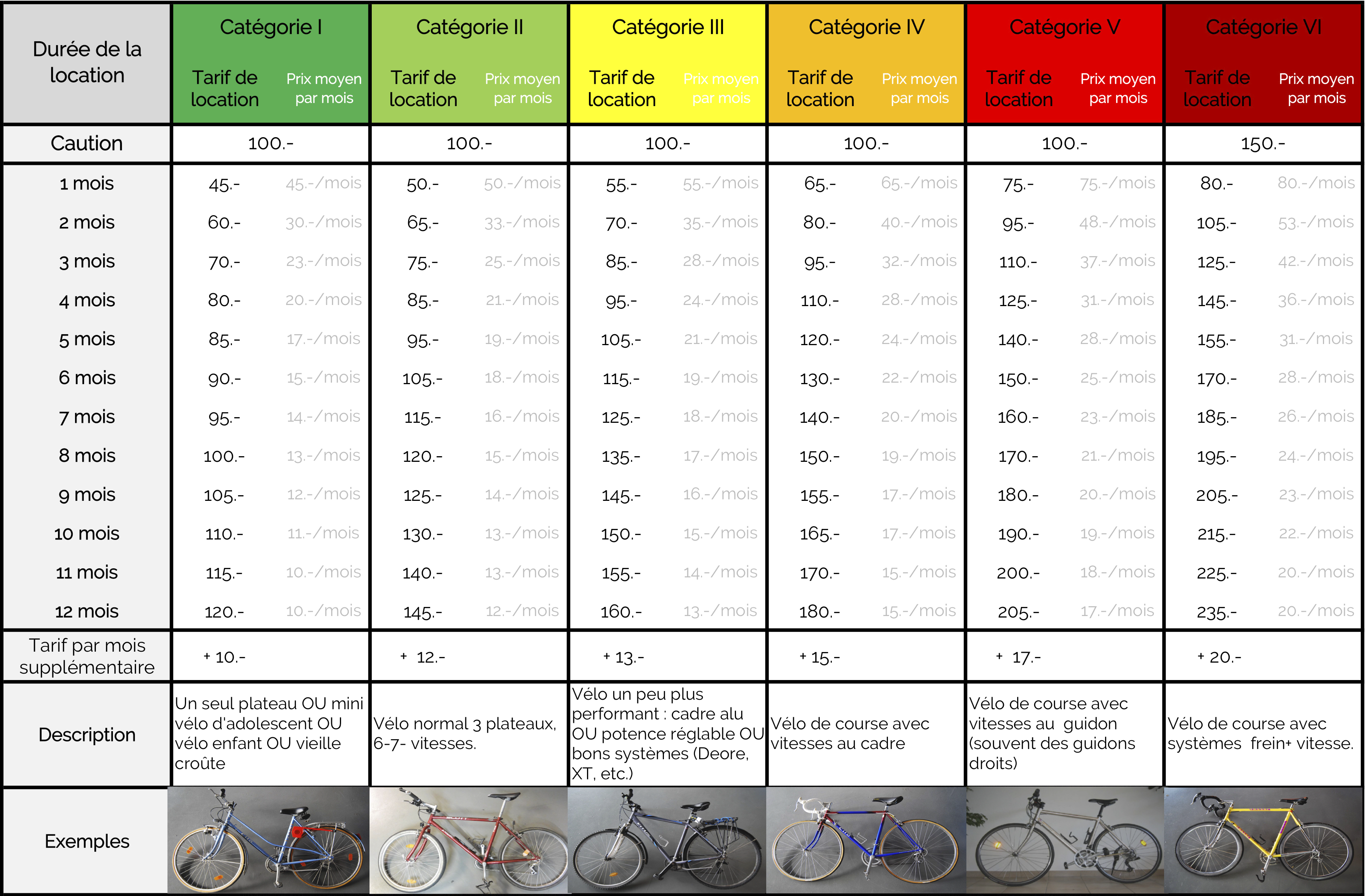 Extension fees
The extension fee depends on the category of the bike, the number of months already rented and the number of additional months desired, e.g. if you have rented a category 3 bike for 6 months and now you want to extend the contract for a further 3 months, you pay the difference between a 9-month and a 6-month rental + 15.- administrative costs: 145.- minus 115.- plus 15.- = 45.-.
And here are our clients